Amerikaner Cookies
"Amerikaner" means "American" and it is also the name of a most fabulous cake cookie that's available in many locations all over Germany.
They are beautiful, delicious cookies about the size of the palm of your hand and they make a fantastic sweet snack or as part of Kaffee (coffee and cake at 3 p.m. in Germany. What a delicious tradition.)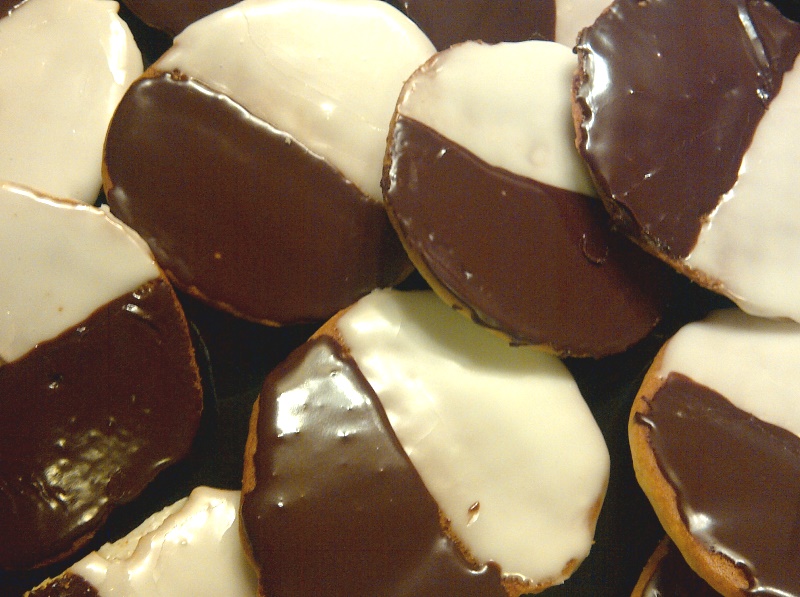 Here is a recipe for these cookies, known as black-and-white cookies here in the US. I made them for one of my German classes and they loved them. I hope you do, too!
When you bake them, let me know what you think! Leave a comment below.
Remember, if you need to cover the cookies with plastic wrap, use toothpicks to prevent the plastic wrap from messing up your fine icing job!
Here are the cookies I made with the toothpicks:
Where does the verb go in that sentence?

Frau Warner's German Sentence Structure Guide will help you place everything correctly.

In it you'll find:
German sentence structure for the beginning, novice, and intermediate levels.
true-to-life sentence examples.
English translations for every sentence.
It's yours to keep, plus you'll receive exclusive subscriber news, too.