3 Easy Ideas for Your «Adventskranz»
der Adventskranz = advent wreath
Do you know the difference between Advent and Christmas?
Growing up, I never really understood the difference. I even got an Advent calendar from my grandmother every year, but nobody ever explained to me the difference very clearly.
So you can imagine that it was a bit of a shock when I moved to Germany and found out: »Advent ist nicht Weihnachten!«.
No, Advent is *not* Christmas. It is the time before Christmas.
Here's how I learned the difference. I used to conduct a small choir in Germany and they were very clear with me, because I didn't even understand this differentiation and I asked them to sing a Christmas song for an Advent concert.
Whoops. Wrong request, Frau Warner!
The response from the choir was clear: ​One may not sing Christmas songs during Advent.​ ​And one ceases singing Advent songs when Christmas arrives.​

Fast forward a few years and many experiences later, and it is clear to me that Advent is a time of anticipation and of waiting. In Germany this time is approached specifically with a few wonderful traditions. One of these is the Adventskranz or Advent wreath. Here are three ideas for you to make your own.
This year Advent starts on Sunday, December 1. That's this Sunday.

Lassen Sie sich inspirieren! Let yourself be inspired!

Idee eins: der Adventskranz ganz traditionell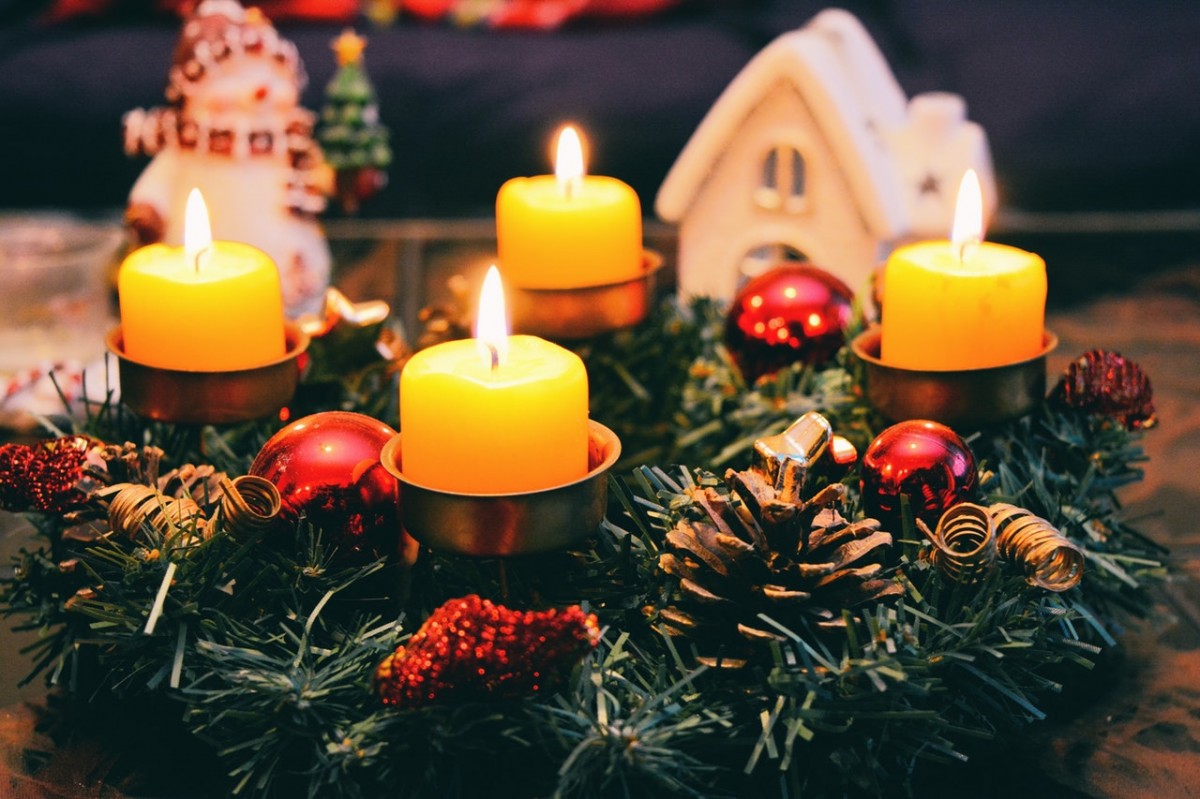 Using a wreath and four candles, create an Adventskranz and place it on your dining room or coffee table. (Of course exercise caution with pets, small children, and other decoration.)
You can use candles of the same size, however in Germany there are usually four differently-sized candles in a package. You light the tallest one first, since that will be lit on four Sundays.
On the 1st Sunday of Advent: Light one candle.
On the 2nd Sunday of Advent: Light the first candle and a second candle.
On the 3rd Sunday of Advent: Light the first two candles and a third candle.
On the 4th Sunday of Advent: Light all four candles.

Idee zwei: Teelichter
If there isn't enough time to get your pillar candles together or order a wreath - or maybe if it isn't safe to have a wreath and candles on your table - simply use four tea lights. Tea lights are available in most crafting and home goods stores.
Maybe you have four tea light holders already at home? Try a thrift store or even the seasonal section at the grocery store.
Idee drei: basteln Sie minimalistisch

Create a minimalist's Adventskranz: find some construction paper or some colored pencils and draw a wreath and four candles. Stick them up on a wall, one each week and sit back and enjoy it.
Take a few minutes for yourself, drink some tea, and enjoy the (fake) candlelight. This is a time to feed your senses, to see light in the darkness, and to simply be.
Advent, Advent,
ein Lichtlein brennt.
Erst eins, dann zwei,
dann drei, dann vier,
dann steht das Christkind vor der Tür. (Kinderreim  children's rhyme)
Where does the verb go in that sentence?

Frau Warner's German Sentence Structure Guide will help you place everything correctly.

In it you'll find:
German sentence structure for the beginning, novice, and intermediate levels.
true-to-life sentence examples.
English translations for every sentence.
It's yours to keep, plus you'll receive exclusive subscriber news, too.