German Products and Services for You
This is a collection of German, Swiss, and Austrian (known collectively as DACH) products and services I've curated especially for you. These are products and services I have used or am familiar with, so the research is done for you.
Many of the products on this page are picture-based, so turn off your ad blocker to see them. Viel Spaß!
Auskunft: Auf dieser Seite finden sich normale und sogenannte «affiliate links». Das heißt, dass wenn Sie so ein Produkt über diesen Link kaufen, dass ich dafür eine kleine Kommission erhalte. Ich weiß aber nicht, wer was gekauft hat. Infos über Ihren Einkauf werden nicht weitergeleitet.

Disclosure: On this page there are normal and also so-called "affiliate links." That means that if you click that link and make a purchase, I receive a small commission for it, however I do not know who bought what. Your purchase information stays with the other company.

German Books and Books for German
alibris has hundreds and hundreds of books for German learners and German speakers. According to their website, alibris "is the premier online marketplace for independent sellers of new and used books, music, and movies, as well as rare and collectible titles."
At alibris you can search for and buy:
books for German learners
German dictionaries
novels and other books written in German
Supporting independent sellers is good for business.
Search all German books on alibris.com
Affiliate link
Springer Verlag GmbH

"Springer Verlag GmbH is a leading academic publisher and offers customers a vast collection of over 260,000 (e-)Books in its Springer Shop. Our customer base includes research professionals, academic researchers, professors and lecturers, students, authors, as well as individuals with an interest for science and technology."
Wählen Sie Deutsch oder Englisch:
Affiliate links
Deutsch Perfekt is a magazine for learning German as a Foreign Language and it focuses on the levels A2 through C2.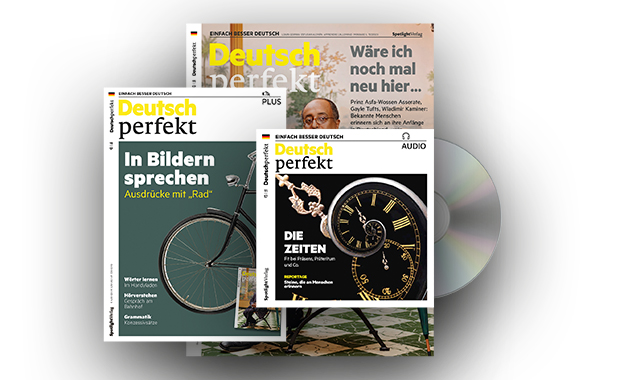 Deutsch Perfekt has the following formats available:
printed magazine
magazine as PDF (to download or use with an app)
Audiotrainer
Übungsheft (practice workbook)
If you'd like to order a subscription, use this link to save 20% on your subscription:

Affiliate link
Spiele und Spaß Games and Fun
In DACH Ländern reisen Traveling in DACH Countries
alles elektronisch Electronics
Sennheiser Audio:

Sennheiser offers headphones and soundbars, microphones and headsets for high quality listening and recording. You can purchase a single device or get a whole set of devices for your office. Affiliate link:

ProtonMail and ProtonVPN
The best private and most secure email is made in Switzerland. It's available to everyone and has over 15 million users worldwide. ProtonMail has been mentioned and reviewed by: Forbes, The Guardian, The New York Times, PCMag, TechRadar, TechCrunch, Le Temps, CNET,  Wall Street Journal, and many more. Affiliate link

ProtonVPN is the award-winning VPN made by Proton and has over 3 million users worldwide. Affiliate link
G DATA Software, Inc.

"G DATA Software provides security solutions for end customers and customized network solutions for small, medium and large businesses."
Affiliate link
Dorothee Schumacher
Dorothee Schumacher is a clothing designer based in Mannheim, Germany.
"Discover blouses, shirts, tops, knit, dresses, skirts, trousers, blazers, jackets, coats, shoes, bags, jewellery, belts and much more! Exclusive materials and subtle designs yield looks for women with the highest standards only."
Affiliate link
Produkte für Zuhause Products for your home
VENTA Luftreiniger  VENTA Air Cleaners  (Affiliate link)
I had a VENTA air cleaner in Germany and it worked very well. The US VENTA office is in Illinois, not too far from where I live now.

Weinhardt & Associates LLC

Weinhardt & Associates can help you with almost any legal or government related issues in Germany. They offer their legal services to clients all over the United States, Canada, and worldwide. All their lawyers are licensed in Germany. Weinhardt & Associates, LLC is licensed only to practice law in Germany and is not licensed nor qualified to render advice on US Federal or State law.
German-English Translations
 Laura Freeburn Translations, LLC
"I am a certified German-to-English translator with over a decade of experience working with a variety of clients. Over the years I have translated poems, family letters and birth certificates, magazine articles, reference materials, academic works, brochures, and web content. Please get in touch with me if you need to turn a German text into an English one – no job is too small!"
Laura is based in Wisconsin.

Send and Receive Money for Less
TransferWise is such an efficient and low-cost solution for transfers that I use it for tuition payments from outside the US. The fees are minimal, maybe $1-2 per client, and the transfer to my bank account occurs within 24 hours. I'm a fan so I became an affiliate to help promote their services.

And to help you save money!

Affiliate link
Smallflower.com has been an apothecary since 1875 and they carry a host of German products, from 4711 (yes, THAT perfume) to natural body products from Weleda, and from German cough drops to Dr. Hauschka skin care and cosmetics.

Did I mention Nivea, herbal bitters, Klosterfrau, and Tempo tissues?
Affiliate links
Bekommen Sie bereits »die E-Post«?

»Die E-Post« is the monthly newsletter I send out, and that's where I include new products and services. Read about new partnerships and get all the updates first.
I hate spam too. Unsubscribe at any time.