Reisebericht: German Fest 2015!
German Fest 2015 was a blast--from the food to the music and from the culture tent to the Lederhosen!
And since it's a typical German thing to write a Reisebericht (a travel report), and I took pictures of the food (Ja, Bratwurst!), here is a Reisebericht in Bilder.
German Fest is a wonderful festival that takes place on the Sommerfest grounds directly on Lake Michigan. Luckily the weather was gorgeous and there was plenty of sun and fresh air for us to enjoy!
First, arriving at the front gate just at the opening was the perfect opportunity to snap a shot with the mascots--check out the Lederhosen on these guys!
Although it was almost lunchtime, and there was this beautiful Spanferkel, we opted to wait for a bit to eat and check out some of the cultural activities first.
If you haven't had Spanferkel before, or you've never seen it being cooked, it's a startling sight. It's suckling pig that's slaughtered at about 6 weeks of age and then grilled.
Grilled pork. Ja, genau.
So on to the cultural activites we went and just inside the huge cultural tent we found Bryan Berenson, Master Sculptor or Bildhauer.
Here Mr. Berenson is setting his tools to scale, which he then transfers to the wood he's sculpting (next picture).
This sculpture will eventually be part of a Nativity set, this being Joseph. Check out the sketch! You can see the movement of Joseph's arm even in the sketch.

Further along in the culture tent there was a volunteer crafting paper stars, which kids could also make and take with them!
Weihnachtssterne are very popular in Germany, especially from the Erzgebirge in the far eastern parts of Germany.
 And when you've made enough Sterne, you can decorate a tree like this!
As it turns out, Schnitzelbank is not just a song from Animaniacs. Yakko, Wakko, and Dot Warner didn't make this one up. There really is a thing called a Schnitzelbank.
Schnitzeln is what this gentleman is doing, chipping away at the wood. It's more than whittling, less than hacking. It's schnitzeln.
What German Anything would be complete without a few, beautiful Autos?! The Milwaukee Area Volkswagen Club had their own tent with cars rotating in and out throughout the day.
Here's everybody's favorite, der Käfer! Complete with drive-in tray and...piñata...
This beauty, a custom "V-Woodie" was made between 1964 and 1967 and was hand-built and designed by the owner. It's a 4-speed and the engine is a T3-1600.
Sehr schön!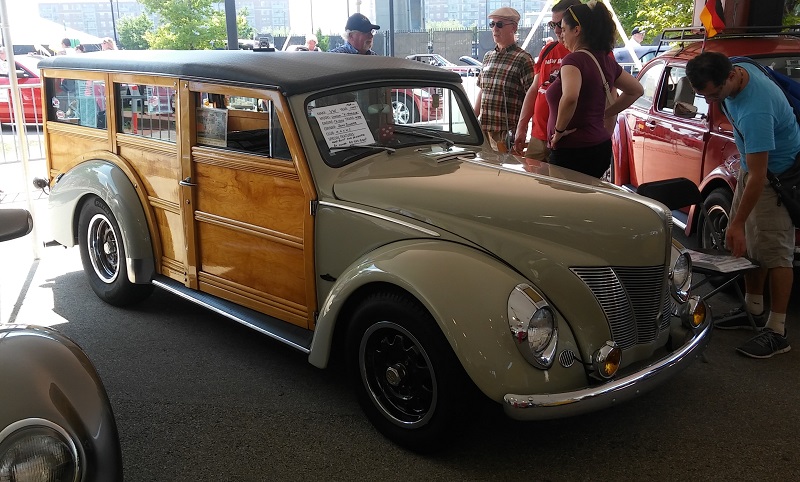 This 1973 model is a "Thing."
Then hunger struck! We were off to find some Bratwurst mit Senf!
Luckily we found these Bratwurst being grilled traditionally. The only thing was missing was the cook turning them by laying a stick on top and rolling them all over in one, swift movement.
And no Bratwurst snack is complete without a Brezel! Here the Milwaukee Pretzel Company delivered 100% with lovely Brezel and even a Bavarian specialty...
Obatzda!
Enjoyed in Beerhallen and Biergarten all over Bavaria and beyond, this delicious mix of dairy goodness is made by cutting the outer layer off a round of Brie or Camembert, and mixing the soft interior of the cheese with butter, cream cheese, paprika, raw onion, and herbs.
If this close-up doesn't get your stomach growling, I don't know what will.
At the same time there was a captivating air show taking place over Lake Michigan--it's impossible to adequately capture the maneuvers and turns these pilots took. It was truly impressive!
It made for an entertaining finish to a day full of German music, culture, interesting conversations, and cars!
Und nicht zu vergessen, we checked in on Mr. Berenson before we left, and here was his progress:
Categories